Welcome Beekeepers!
Our next meeting will be our holiday dinner Friday, November 17, 6:30 p.m. at the St. Clair County Farm Bureau, Belleville, IL
Roast turkey and baked ham will be served;  bring a covered dish or dessert to share.
2017 is SCBA's 100th anniversary and we will be celebrating our centennial at our holiday dinner. We also would like to mark our anniversary by donating 100 jars of our delicious local honey to area food pantries. If you would like to participate please bring a half-pound jar (or more if you like) to the dinner.  If you cannot attend but would like to donate honey, please email:  stclairbees@gmail.com and we'll make arrangements to pick up your donation.   Thank you very much!

Thinking About Getting Into Beekeeping?
Check this link -
"11 Considerations Before Becoming a Beekeeper"
2016 SCBA Beekeepers of the Year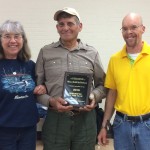 Bill and Barb Mattatall were honored as SCBA's 2016 Beekeepers of the Year at our meeting April 28. Shown above receiving their commemorative plaque from President Kevin Wilke, the Mattatalls are long-time members of the SCBA.   Bill recently finished a three-year term as president and Barbara has served many years as hostess for the monthly meetings. Bill and Barb were chosen because of their commitment to beekeeping and the beekeepers' club, the enthusiasm and encouragement they provide and their leadership. Congratulations, Bill and Barbara!

If you're looking for equipment, bees or queens be sure to check the listings on The Tradin' Post.
Got a swarm of bees?  Check the Swarm List 2017 for assistance.
Thanks to everyone who brought seeds and plants to our swap at the April meeting.  We went home with armloads of goodies – now we just have to plant them!
Need a Mentor?  We can help – 2017 Mentor List
Got a Favorite Recipe that Uses Honey?
Please send it to us – we'll put it in the cookbook we're writing to sell as a club fundraiser.  We're looking for any type of recipe that uses honey, including baked goods, drinks, soaps and lotions, waxes, etc.  Send your recipe to stclairbees@gmail.com. 
Spread the Good Word!
Spread the word about the St. Clair Beekeepers Association or about bees and pollinators.  We now have brochures available.  Just contact stclairbees@gmail.com and we'll get them to you.
Pollinator-Friendly Flower Seeds
We now have small packets of pollinator-friendly flower seeds available to give away to raise awareness of the plight of honey bees and other pollinators.  If you would like several packets to give away at events, presentations, markets, etc., contact stclairbees@gmail.com.
It's time to register your hives. It's easy.  It's free.  It's required.  Click here for the registration form.  Learn about Illinois' apiary program here or contact Inspector Eleanor Schumacher (510-285-7879).
Want to join the St. Clair County Beekeepers Association?  Dues are $20 per year.  Email Treasurer Vickie York or call her at 618-288-1846.