Welcome to 2020, Beekeepers!
The first monthly meeting of the year will take place on January 31st at St. Clair Farm Bureau Insurance, 1478 E. State Route 15, Belleville IL 62221.  Meetings begin at 7:30pm.
Jane Sueme will be joining us to share information about the
Local Survivor

Honey Bee Queen Rearing Project
undertaken by the Saint Louis Beekeepers
for the past two years. The project was funded by a SARE (Sustainable Agriculture Research and Education) Grant and undertaken by a group of volunteers from the club who established an urban club apiary for the project. This is a great opportunity for us to learn about one of the ways beekeeping club members can work together to achieve a goal that benefits everyone. There will also be time for Q & A, so bring your overwintering questions and concerns as well as thoughts about preparing for the spring build-up.
It WILL happen!
Beginning Beekeeping Workshop
Saturday, February 22, 2020
Madison County Farm Bureau
Edwardsville IL 62025 Hosted by:
St. Clair Beekeepers Association
Interested In learning more about honey bees and possibly becoming a beekeeper? This rewarding hobby is both more fascinating and more complicated than many people think, so starting off on the correct, well-educated foot can make all the difference! By taking this class taught by experienced local beekeepers you will not only learn the basics of beekeeping but also make contacts to call on in the future as you begin your adventure with honey bees. The class will introduce students to honey bee biology and behavior, equipment needs, how and where to acquire bees, seasonal management techniques, legal requirements, pests and diseases, and much more.  Several suppliers will also be present with examples of tools, clothing, books and equipment.
Lunch, snacks and a textbook are included in the registration fee. Don't be left out – sign up early!
This is SCBA election time and we are still accepting nominations for the following offices:

Public Information Officer – Is still needed
If you would like to nominate someone (or yourself) to this office please email the club at stclairbees@gmail.com     We are also accepting nominations for 2018 Beekeeper of the Year – if you would like to nominate someone, please email stclairbees@gmail.com

Unfortunately, European Foulbrood is showing up once again in area hives.  If you see a spotty brood pattern call Inspector Eleanor Schumacher at 510-285-7879.
See the latest and greatest Bylaws on the What New Page. Bylaws April 2018
Check out Bill Mattatall's Follies of a Beekeeper here or on the What's New page!
SCBA Marks 100th Anniversary with Honey Donation
The St. Clair Beekeepers Association was founded July 15, 1917 in Belleville.  To celebrate our 100 years club members donated 100 jars of honey to the Salvation Army Food Pantry in Belleville and the Crisis Food Center in Alton.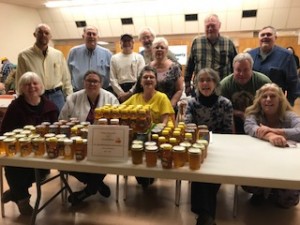 Pictured above with the 100 jars of honey they donated are (back row, left to right) Kevin Wilke, President; Ray Chapman, Larry Loveless, Tom and Gay Simpson, Bob Albrecht, Tom Cairns; (front row, left to right) Barbara Beal, Vickie York, Julie McKinney, Charity Davis-Woodard, Jeff Keller, Beth Keller.  Not pictured:  Anita Castagna, Ken Schaefer, Don and Dawn Huckelberry, Dan and Stacey Amilian.
Need a Mentor?  We can help – Mentor List.  If you would like to be a mentor, please email stclairbees@gmail.com.
It's Getting to be Swarm Season
We're updating our Swarm List and Cutout List. If you would like to be included on the Swarm List and are a member of SCBA you may be listed for up to three counties. Please send your name, location, preferred counties and contact info to stclairbees@gmail.com. If you have been listed in the past please check the list to make sure your information is correct. If you no longer want to be included, please email stclairbees@gmail.com.  If you would like to be on the Cutout List please email your information to stclairbees@gmail.com.  Corrections and removal from list, please email.

It's time to register your hives. It's easy.  It's free.  It's required.  Contact Inspector Eleanor Schumacher (510-285-7879).
Want to join the St. Clair County Beekeepers Association?  Dues are $20 per year.  Email Treasurer Kay Good or call her at 618-977-5545.