Welcome Beekeepers!
Our next meeting will be held Sunday, July 30, 2 pm
Apiary of Bill Mattatall
1496 Black Lane, Caseyville, IL 62232
618-910-3149
Bring a covered dish, lawn chair and protective gear (if you want to participate in the hive inspection)

Club Awards Scholarship to Heartland Apicultural Society Conference
In keeping with its mission to promote beekeeping in southern Illinois the St. Clair Beekeepers' Association awarded a $250 scholarship to Edwardsville beekeeper Marion Rood to attend the Heartland Apicultural Society (HAS) conference July 13-15, 2017 in Evansville, Indiana.  Marion was one of several club members who applied for the conference.  She is especially interested in raising queens from local pest- and disease-resistant stock.
The HAS conference will include special beginner's and advanced tracks of classes, as well as hands-on queen rearing workshops and apiary time. It will also feature presentations from such well-known speakers as Kent Williams, Dr. Greg Hunt, Larry Connor, Michele Colopy, Dr. Jeff Harris and Dr. Zachary Huang. For more information on the conference go to www.heartlandbees.org.

2016 Beekeepers of the Year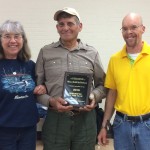 Bill and Barb Mattatall were honored as SCBA's 2016 Beekeepers of the Year at our meeting April 28. Shown above receiving their commemorative plaque from President Kevin Wilke, the Mattatalls are long-time members of the SCBA.   Bill recently finished a three-year term as president and Barbara has served many years as hostess for the monthly meetings. Bill and Barb were chosen because of their commitment to beekeeping and the beekeepers' club, the enthusiasm and encouragement they provide and their leadership. Congratulations, Bill and Barbara!

If you're looking for equipment, bees or queens be sure to check the listings on The Tradin' Post.
Got a swarm of bees?  Check the Swarm List 2017 for assistance.
Thanks to everyone who brought seeds and plants to our swap at the April meeting.  We went home with armloads of goodies – now we just have to plant them!
Need a Mentor?  We can help – 2017 Mentor List
Got a Favorite Recipe that Uses Honey?
Please send it to us – we'll put it in the cookbook we're writing to sell as a club fundraiser.  We're looking for any type of recipe that uses honey, including baked goods, drinks, soaps and lotions, waxes, etc.  Send your recipe to stclairbees@gmail.com. 
Spread the Good Word!
Spread the word about the St. Clair Beekeepers Association or about bees and pollinators.  We now have brochures available.  Just contact stclairbees@gmail.com and we'll get them to you.
Pollinator-Friendly Flower Seeds
We now have small packets of pollinator-friendly flower seeds available to give away to raise awareness of the plight of honey bees and other pollinators.  If you would like several packets to give away at events, presentations, markets, etc., contact stclairbees@gmail.com.
It's time to register your hives. It's easy.  It's free.  It's required.  Click here for the registration form.  Learn about Illinois' apiary program here or contact Inspector Eleanor Schumacher (510-285-7879).
Want to join the St. Clair County Beekeepers Association?  Dues are $20 per year.  Email Treasurer Vickie York or call her at 618-288-1846.