Welcome Beekeepers!
Our next beekeepers meeting Will be July 28th at 2 PM. We will meet at the O Fallon apiary community garden 505 E State. Parking across the street and along the curb at the garden also a small parking lot in the gardens. Potluck is encouraged to accompany the main dish. Don't forget to bring a lawn chair, and your questions. Our Host will be Jim Harper, longtime member of the club. We will be serving chicken and pulled pork. 
All club members we lost a longstanding member
Chuck Leitner 
Charles J. "Chuck" Leitner, age 87, of Troy, passed away at 7:44 a.m. Wednesday, June 19, 2019 at his residence. 

He was born February 5, 1932 in Edwardsville, IL, the son of the late Charles P. and Minnie (Dettmer) Leitner. He married Dolores Brakhane November 1, 1953 in Staunton, IL. She survives.

Besides his wife, Chuck is survived by two children: Kathy (Jerry) Fox of Staunton and Michael (Karen) Leitner of Glen Carbon; five grandchildren: Laura (Kevin) Ormsbee, Kristen Fox, Katelyn Fox, Anna Leitner and Emma Leitner. Three great-grandchildren: Zackary Fox, Kroy Ormsbee and Kylee Ormsbee. 
Two sisters: Louise (Milton) Klaus of Troy and Shirley (Don) Meikamp of Glen Carbon.

Chuck rebuilt engines for Cassens Transport Company and was a mechanic for Cassens Automotive Dealership in Edwardsville. He also worked for Illinois Power Co.as Garage Foreman (now Ameren) in Maryville, IL. He was a US Army veteran of the Korean War, proudly serving his country and received a Medal of Commendation. He was an avid beekeeper for 55 years, receiving the Beekeeper of the Year Award and also the Illinois State Beekeeper Association's Pioneer Award. He was well known for his production of pure, quality honey. He enjoyed gardening, woodworking, sawing lumber, and restoring many old John Deere tractors, a Ford Model A car, and an old Ford truck. He also worked in his shop for many hours welding, fabricating and inventing things for his everyday life. But most of all, he loved spending time with his wife, with whom he had built a wonderful life, working side by side, dining out all over the St. Louis area, and traveling the United States, Canada and Europe. 

He was a member of the American Legion Post 199, the Two-Cylinder Club and St. Clair/Madison County Beekeeper's Association. He also wrote many stories and articles for the Bee magazines and John Deere Collector Magazines.

A Celebration of Life will be held at a later date for Family and close Friends.

The Family request No flowers and donations can be given to either St. Louis Shriner's Hospital or St. Jude Children's Hospital in his honor.
SCBA Director Tom Simpson named Illinois State Beekeeper of the Year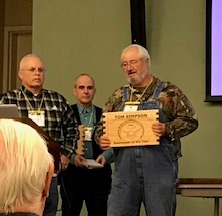 Tom Simpson accepts the 2018 Beekeeper of the Year award from the Illinois State Beekeepers Association (ISBA) November 10, 2018.  Congratulations, Tom!

This is SCBA election time and we are still accepting nominations for the following offices:
Public Information Officer – Is still needed
If you would like to nominate someone (or yourself) to this office please email the club at stclairbees@gmail.com     We are also accepting nominations for 2018 Beekeeper of the Year – if you would like to nominate someone, please email stclairbees@gmail.com

Unfortunately, European Foulbrood is showing up once again in area hives.  If you see a spotty brood pattern call Inspector Eleanor Schumacher at 510-285-7879.
See the latest and greatest Bylaws on the What New Page. Bylaws April 2018
Check out Bill Mattatall's Follies of a Beekeeper here or on the What's New page!
SCBA Marks 100th Anniversary with Honey Donation
The St. Clair Beekeepers Association was founded July 15, 1917 in Belleville.  To celebrate our 100 years club members donated 100 jars of honey to the Salvation Army Food Pantry in Belleville and the Crisis Food Center in Alton.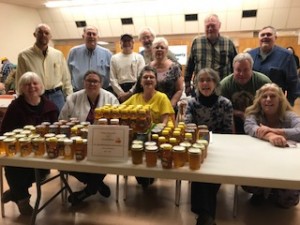 Pictured above with the 100 jars of honey they donated are (back row, left to right) Kevin Wilke, President; Ray Chapman, Larry Loveless, Tom and Gay Simpson, Bob Albrecht, Tom Cairns; (front row, left to right) Barbara Beal, Vickie York, Julie McKinney, Charity Davis-Woodard, Jeff Keller, Beth Keller.  Not pictured:  Anita Castagna, Ken Schaefer, Don and Dawn Huckelberry, Dan and Stacey Amilian.
Need a Mentor?  We can help – Mentor List.  If you would like to be a mentor, please email stclairbees@gmail.com.
It's Getting to be Swarm Season
We're updating our Swarm List and Cutout List. If you would like to be included on the Swarm List and are a member of SCBA you may be listed for up to three counties. Please send your name, location, preferred counties and contact info to stclairbees@gmail.com. If you have been listed in the past please check the list to make sure your information is correct. If you no longer want to be included, please email stclairbees@gmail.com.  If you would like to be on the Cutout List please email your information to stclairbees@gmail.com.  Corrections and removal from list, please email.

It's time to register your hives. It's easy.  It's free.  It's required.  Contact Inspector Eleanor Schumacher (510-285-7879).
Want to join the St. Clair County Beekeepers Association?  Dues are $20 per year.  Email Treasurer Vickie York or call her at 618-288-1846.