Welcome Beekeepers!
The next meeting of the St. Clair Beekeepers Association  will be held Friday, October 26, 7:30 p.m. at the St. Clair County Farm Bureau, 1478 Rt. 15, Belleville.
Seed & Plant Swap!
This is SCBA election time and we are looking for nominations for the following offices:
President – Julie McKinney has been nominated
Public Information Officer – Melissa Hassan has been nominated
Program Chair – No nominations received at this time
If you would like to nominate someone (or yourself) to any of these offices please email the club at stclairbees@gmail.com or come to the October meeting.  Nominations for all three of these positions are being sought.

Jane Sueme of Isabee's Beekeeping Supplies discussed Preparing Your Hives for Winter at our September meeting. She provided several informational handouts which you can access below:
Mite Control Chart
Feeding Schedule
Bee Activity by Temperature

Unfortunately, European Foulbrood is showing up once again in area hives.  If you see a spotty brood pattern call Inspector Eleanor Schumacher at 510-285-7879.

Check out Bill Mattatall's Follies of a Beekeeper here or on the What's New page!
Beekeeper Liability Protection
Legislation relating to beekeepers' liability (HB4709) was presented to the Illinois General Assembly this year. It has been placed in committee while the Illinois State Beekeepers Association works with the Department of Agriculture and the Farm Bureau to develop a bill that would provide beekeepers liability protection as long as they practice due diligence and utilize best management practices. More information will be published here, in the ISBA Bulletin and website and on the SCBA Facebook page as it becomes available.
SCBA Marks 100th Anniversary with Honey Donation
The St. Clair Beekeepers Association was founded July 15, 1917 in Belleville.  To celebrate our 100 years club members donated 100 jars of honey to the Salvation Army Food Pantry in Belleville and the Crisis Food Center in Alton.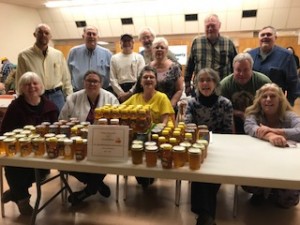 Pictured above with the 100 jars of honey they donated are (back row, left to right) Kevin Wilke, President; Ray Chapman, Larry Loveless, Tom and Gay Simpson, Bob Albrecht, Tom Cairns; (front row, left to right) Barbara Beal, Vickie York, Julie McKinney, Charity Davis-Woodard, Jeff Keller, Beth Keller.  Not pictured:  Anita Castagna, Ken Schaefer, Don and Dawn Huckelberry, Dan and Stacey Amilian.
Need a Mentor?  We can help – Mentor List.  If you would like to be a mentor, please email stclairbees@gmail.com.
It's Getting to be Swarm Season
We're updating our Swarm List and Cutout List. If you would like to be included on the Swarm List and are a member of SCBA you may be listed for up to three counties. Please send your name, location, preferred counties and contact info to stclairbees@gmail.com. If you have been listed in the past please check the list to make sure your information is correct. If you no longer want to be included, please email stclairbees@gmail.com.  If you would like to be on the Cutout List please email your information to stclairbees@gmail.com.  Corrections and removal from list, please email.

It's time to register your hives. It's easy.  It's free.  It's required.  Contact Inspector Eleanor Schumacher (510-285-7879).
Want to join the St. Clair County Beekeepers Association?  Dues are $20 per year.  Email Treasurer Vickie York or call her at 618-288-1846.